So one fine day, you realised that your usual barbell weights is starting to feel somewhat, lighter; so you (
very confidently
) added on that two more plates.
And here's the
brand new
you walking
confidently
into the brand new day the very next morning.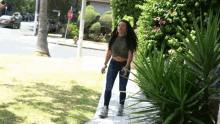 "Shouldn't have added those weights yesterday, but too late..."
Does this situation rings a bell? Well, that has happened to me all the time. Not because I'll never learn, but pushing our body to the limit is how we grow stronger, right?
The only issue is that all those muscle ache relief gel are always so oily/sticky and the patches always comes in fixed and rigid rectangular pieces that almost never seem to fit well on our sore spots. And let's not even get to their strong, distinctive medicinal-minty smell that's simply announcing to everyone within a 10-metre radius around you that you're experiencing severe muscle aches
right now.
So much for trying so desperately to walk normally.
Now, I'm absolutely excited to know that
Samplestore
has brought in my life-saviour product from
GreenE
!
Using patent technology, the GreenE Pain Relief Tape (
otherwise also known as Soft Acupuncture Patch
) is a
medicine-free
(
hence no pesky medicinal-minty smell, yay!
), 4-way stretching medical-level tape that can be worn for up to 36 hours. It can be stretched up to a whopping 192~230%, which is 3 times ahead its competitors in the market.
Made of F-IR generating fibre, which is drawn from energy ball implanted nanoscale
Ge/Ti/

π solution, which generates the purified far-infrared. 93% of F-IR emission occurs at wavelength of 2-22 um, which helps cell-resonance thermal effect and liquidity effect by de-bonding water micelle and boosting blood circulation for pain relief, which is proven in clinical test reports that the tape increases blood flow speed at near 22%, which benefits the removal of lactic acid and hematic acid in our body.
On top of its muscle & joints pain relief benefits, GreenE Pain Relief Tape also helps with easing muscle fatigue during exercises. A bicycling electromyography test on the tape has revealed less muscular-strength regression, muscle stretching and torque, which indicates less fatigue and better injury prevention during exercise.
Tell you what, this tape is officially my new Spinning buddy.
140 rpm, let's go!
Last but not least, the GreenE Pain Relief Tape has an internationally certified Invention Patent registration in the US, China and Taiwan, with medical device certificates issued by the FDA and CE, ISO13485 and GMP certifications, et. cetera.
It's aptly named as an acupuncture tape because just a small patch directly over your soreness point will do the trick, as the Bio-FIR/Bio-Energetics emitting is able to reach 6 cm under the skin, including blood capillary system as well as lymphatic system.
Due to its super elasticity of 190 - 230% stretch by using 10% expensive Lycra and special knitting, having the tape directly over our joints (elbow, knee, ankle etc) will also not hinder our movement at all, hence we can still continue with our usual workouts without any limitation.
Usage of the tape can't be any simpler:
- Make sure to clean your skin and trim away body hair on the area of application
- Cut tape to the desired length and paste on affected area
- Best to apply 30 minutes before activity
- Water resistant & last up to 36 hours
- For removal, simply remove tape from skin gently
- Take note not to apply on wounded skin
Check out Sample Store's page
HERE
to redeem a free sample of the GreenE Pain Relief Tape and purchase the product.
This September, Sample Store is once again bringing to us many new and interesting products from Taiwan! The last Best of Taiwan campaign in 2018 was well received and this time round there are many more exciting products other than this GreenE Pain Relief Tape for you to try out!
Subscribe to Sample Store's eDM to keep yourself notified on their weekly launches!


Till then,
Mia Foo